Graphics design involves the creation of visuals. Whether you are an aspiring designer or seeking design services for your business, understanding the eight types of graphic design will help you find the right skills for the job.
#1. Packaging graphic design
Packaging design are made on items such as boxes, bottles, bags, and a wide range of containers. They are strong marketing tools that communicate directly to consumers. Packaging designers create concepts, develop mockups and create the print-ready files for a product. This requires expert knowledge of print processes and a keen understanding of industrial design and manufacturing.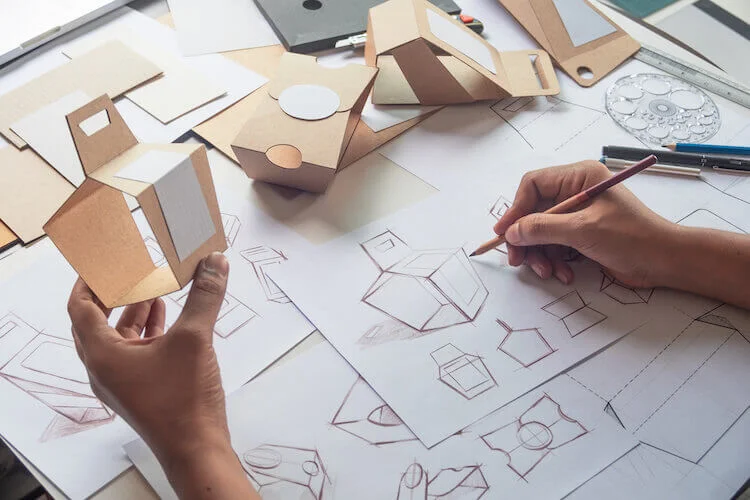 #2. Visual graphic design
These graphic designs are based on brand creations. A brand stands as a relationship between a business or organization and its audience. These graphics act as the face of a brand to communicate those intangible qualities through images, shapes, and colors.
Visual identity design is one of the most common types of design. Visual identity graphic designers must possess a general knowledge of all types of graphic design in order to create design elements that are suitable across all visual media. They also need excellent communication, conceptual and creative skills, and a passion for researching industries, organizations, trends and competitors.
#3. User interface graphic design
These graphics designs are for the interface of web, applications, software, and devices. The user interface is the means by which a user interacts with a device or application. The design of the interface helps users to easily make use of a platform and provide a user-friendly experience.
UI designers specialize in desktop apps, mobile apps, web apps, and games. They work closely with UX (user experience) designers (who determine how the app works) and UI developers (who write code to make it work).
#4. Publication graphic design
Publications designs deal with communicating with an audience through public distribution such as print medium. Publication design is a classic type of design—think books, newspapers, magazines, and catalogs. However, there's recently been a significant rise in digital publishing.
Graphic designers that specialize in publications work with editors and publishers to create layouts with carefully selected typography and accompanying artwork, which includes photography, graphics, and illustrations. Examples include designs of Magazines, Catalogs, Books, Newspapers, Newsletters, Annual reports.
#5. Art and illustration for graphic design
Graphic art and illustration are often seen as being the same as graphic design, however, they're each very different. Designers create compositions to communicate and solve problems, graphic artists and illustrators create original artwork. Their art takes a number of forms, from fine art to decoration to storytelling illustrations. Examples of art and illustration includes T-shirt design, Graphic patterns for textiles, Stock images, Album art, Book covers, Infographics, Technical illustration, Concept art.
#6. Marketing & advertising graphic design
These graphics are major designs for the successful marketing of companies. They are designs created to engage people based on the wants, needs, awareness, and satisfaction they have about a product, service, or brand. Since people will always find visual content more engaging, graphic design helps organizations promote and communicate more effectively.
Marketing designers work with company owners, directors, managers or marketing professionals to create assets for marketing strategies. Examples of such include banners, posters, flyers, Social media ads, Vehicle wraps, Images for websites, and blogs.
#7. Motion graphic design
These designs put graphics into motion. They include animation, audio, typography, imagery, video, and other effects that are used in online media, television, and film. Motion graphics cuts across all digital platforms, which has created all sorts of new areas and opportunities. These motion graphics are used for Advertisements, Animated logos, Presentations, Tutorial, Apps, Video games, GIFs.
#8. Environmental graphic design
Environmental graphic design visually connects people to places to improve their overall experience by making spaces more memorable, interesting, informative, or easier to navigate. Environmental graphic design is a multidisciplinary practice that merges graphic, architectural, interior, landscape, and industrial design. Environmental design is a broad type of design, including Signage, Office branding, Retail store interiors, Stadium branding, Wall murals, Museum exhibitions